I know I have heard it both ways. Where are you located and whats your situation?
~Jersey 862-312-2026
Good Afternoon Jersey
Clearview ECS located in Saratoga NY…
I have had some restaurants cancel (since they closed temporarily) and a couple high profile customers bump cleanings… but the phone is still ringing and people are still booking… Praying this passes quickly…
I am debating on hiring my summer worker if it slows, that way myself and my main guy can handle the work that remains. My April is heavy for 2 but we could make it happen!
Stay well all! JB
yeah hopefully this will all just push our "spring" a little later in the season.
Lost several restaurants in Vegas and one resi(very large bi weekly account). Weather hasn't been great for the past couple of weeks. So I don't know if it's weather related right now or the virus. Regular commercial has all still kept to schedule. Toss up over here
Had a couple residential cancellations, but they didn't blame it specifically on the virus. Just said "need to reschedule." Of course, there will be rain and storms these next few days so it could be the weather too.
Located in Illinois
We were running strong til about 2 days ago. April is packed solid, a lot of that being reschedules. HOPEFULLY the virus starts slowing by then, but I have a really bad feeling about what the economy will look like after.
I'm with Chris. Dallas closed all restaurants, gyms, bars and cafes until further notice. Looked at my calendar and all next week was my gyms, restaurants, bars and cafes. Residential is prebooked for the 10 days or so before Easter. I'm hoping that they hold, but I'm thinking we are going to be seeing a new reality in a couple of weeks.
All I have is a job today, small graffiti removal gig at a Cricket store, and MAYBE a wet seal job in Oceanside on Friday. IF the borders are still open. After that? Lets just say me and the big guy upstairs are gonna get real tight cuz Imma gonna be prayin' like crazy.
Lost 4 weekly restaurants and a hotel that we did 3 times a week .
Its bad out there !
One Dentist called an canceled until further notice , none of my restaurants called yet
I actually had a diner I dropped call me to cone back an clean. I told him I'll do it once a month for now. Not doing diners anymore especially in the winter.
We had a nice size commercial job Monday cancel , because of this. Then they called an wanted us to do it Thursday . So far so good with this , we will see !
Definitely interesting to see how the economy will shake out. I've had at least 20 successive years of growth, even during the recession in 2007, but this far different. Recessions usually hit the various regions of our country at different times, but this is something we have never seen in our lifetimes. April is always an unpredictable month for me, so I won't really know until May-June.
Oh boy here we go. First of many today I'm sure. I'll still do the outsides an see what happens.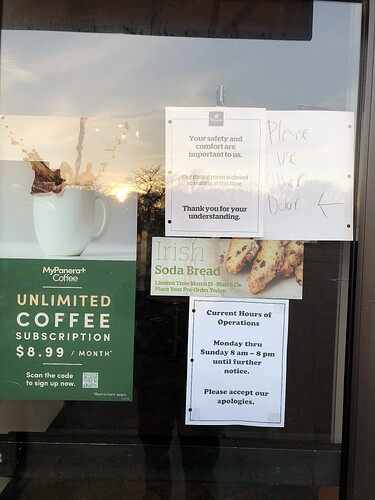 emphasized text
@Majestic66 yep, I've had one surprise today. Some others Yesterday. Hoping residential doesn't go bad since we make things clean, cause if it does I'll be screwed.
I had a regular cancel due to his work situation and if he gets to stay will have to take a lesser paying position
depending how much longer than 15 days this lasts there will be more fallout as customer's businesses or the places they work for suffer losses
who wants clean windows if you cant find TP lol
we'll just have to wait and see, it is a drag after so many great years, if it's protracted, who looks forward to rebuilding again after another 2008-like (or harsher) economy blow, ugh
To be honest. Probably not me. I'd start something different. This really has me thinking about businesses that have to/can stay operational during a time like this. I don't have any solid ideas yet but this event has me really re thinking things now
medical is the hands down winner thru any type of economic storm, although elective stuff has impacted doctors so perhaps medical supplies
oh yeah and food or toilet paper lol
Update, places are closing here in Columbia, SC. Hoping some education of my customers will allow me to do houses, at least on the outside. I'm hoping once people read how soap kills the virus that will help. Can't claim they won't get it, but at least it may help. I will share a link below.
In other good news, they may have found a drug to help treat C19. It is used to treat SARS which is related from what I read, so here's hoping.
Also, they are having a free webinar over at sendjim called Coronavirus and Impacts to The Home Service Industry – Panel Discussion and Live Q&A.
Why Soap Works
What is a wet seal? Thank you.
Bruce, I've always respected your views. You're a numbers guy, so check out the other posts I've shared today. All signs indicate this will last much longer than 15 days. Batten down the hatches, brother.
Yeah, I'm surprised how many people have taken that out of context. The next 15 (minus 3) days are going to be crucial to see whether this thing can be brought under control; i.e., can we flatten the curve? But it'll be a lot longer before we're out of the woods