I did a quick video describing how I use a bottle for applying solution -
Nice. Thanks. Do you use a pouch on your belt to carry it?
My only problem with this setup is that it seems you'd never be able to rinse out your strip mop. If you're using minimal water/solution on each window, then the majority of the dirt is going to stay in your strip mop, and since you don't dip it in your bucket, it would just stay in there. At least that's what I think would happen. Am I wrong Tony? I mean, if Kurt does it then it's gotta' be good, but still I guess i just have this one reservation.
Shawn - I always have my barrel of pure water to rinse it off when needed.
Phil - I use Unger's Ergotec bottle holder. Works great!
Tony,
Thanks a bushel for taking the time with that. For some time (on interiors) I have been removing the sprayer and "loading" my scrubber from the bottle. But I really like your simple solution with the screw on pop-top. And to think: It was right there on the water bottle the whole time. :o
I have been using the bottle method without the sprayer for a few years now. I love it and it saves you from having to bend down to dip your mop in the bucket 100 times per day. I'm 6'3" and it's along way down to the bucket. I found some bottles with the flip top already attached. I just bought 20 of them because I am afraid that they will stop making them someday.
I also noticed that I work faster with the bottle on a belt method. I also have a 5 gallon bucket with DI water/soap mix and I just dip and fill as needed.
Very good idea! that you can change from spray to open top,
Where would I get a flip top for the spray bottle?
I use a different type of flip top. It's like a lever that pulls up & gives you more water in less time, I usually leave it on the open position until finished. Sprays gave me wrist ache & I found it time consuming. I also finds the solution decays if you don't use it for a long time. So I make 2 bottles to go, that gives me just short of a couple of hours. If you use Wagtail flips, you can keep these clean with the solution - your strip washer can be used for frames & extra dirt, that saves trips to the tap. I also use a divided bucket on some jobs, think Tony showed one in another video, this can be used for dipping mops. I also have other sized buckets for other jobs & even one for walking round town with instead of hand lugging it.
I found mine at a local gift shop/bakery. They had them by the cash register as a topper for bottles of pop.
Hey Tony, I just can't picture pouring water out of the bottle onto your strip mop on interiors of homes. Do you do that? Or do you always spray the solution directly onto the window? It seems like you'd get drips on the carpet and whatnot if you're trying to pour it onto your strip mop.
I'm seriously wanting to implement this, but I'm trying to figure it out, since I've always used a bucket and a BOAB on every job! Maybe since you've been finding time to make videos (which I really enjoy watching by the way), you could make me a video showing how you use this bottle system on interiors of homes… ? Sorry, I'm a visual person, can't picture it when you just say it.
Y
You can use the top off of a water bottle, you can also poke a hole in a regular soda cap with a screw driver. I'm using an old quart gg4 bottle now.
Sent from my iPhone using Tapatalk
We've been doing it this way for over a decade. You can put your soaker on the window and wet it there or open the window and wet it over the sill or outside. The water doesn't come out of the bottle like you turned on a hose it's pretty easy to control.
Sent from my iPhone using Tapatalk
Shawn - We used to do what Jay describes but now I use the spray top to wet the window and use the strip washer to agitate the solution on the window.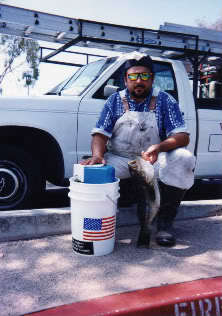 Curt,
Great vid, love the shirt with the collar, you belt is highly functional and I see dude you've turned to the second best tool in w/c "THE NATURAL SEA-SPONGE"(water being #1)(scrim being equal to the sponge), GREAT, say try the unger bottle pouch to put your sponge in on the front of your belt.
Dange-Ski
Kurt,
Nice video!!!
So you're thinking of rolling with just the sponge and a scrim? I'm thinking about doing the same thing. I cut my scrim too. I'm using an old GG4 bottle because the little handle makes it a tad easier to pull out of the pouch.
We have been using spray bottles for 12ish years. Great video Curt.