i got this text yesterday after booking a job that morning for $495 (5000 sq foot house)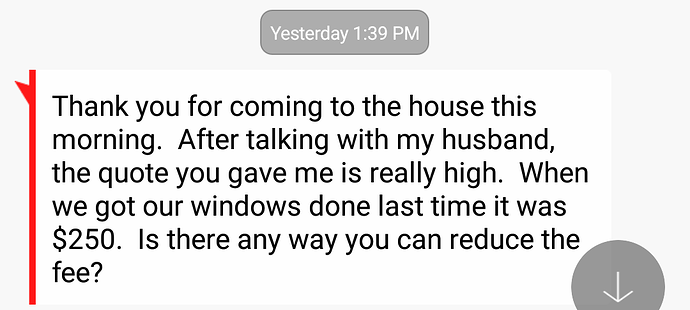 here is my reply (this was a customer of the business we bought 18 months ago)
I'm sorry but no, our price is calculated consistently for every home based on the scope of the work. I was unable to find an entry in the records sam gave us for 2014, 2015, or 2016 so i have no way to know what Sam charged last time, but base on the pane count and his published prices he should have charged no less than $332
We do not price match Sam's old prices because when we purchased Sam's business in 2016 his prices were already several years behind the market. Additionally our current rates are comparable among the best window cleaners in the area, but I believe we offer the best service.
When you hire Two Guys Window Cleaning you will get the actual owners doing the work, two drug free family men, we will do an excellent job, we will be courteous to you and to your property, and as you may see if you view our reviews online, all of our customers have been happy with us so far.
I hope you give us a chance to work for you."