Nice. I get some nice pics sometimes that I mean to share, but I never get around to uploading them. Here are a couple gutter cleaning pics from earlier this fall, in Keene, NH:
Apologies for the sideways pics.
Nice Pics, What did you use to remove the moss?
I have no idea why the moss isn't in the second pic. I think I was in a slightly different spot when I took the after shot. And I also rinsed the gutters, some may have fallen off from the rinse? Seems unlikely…
this moss you can just brush it and will go away very easy then just blowout everything
Nice work. Looks like it's time to sell them a roof cleaning too!
Jesse
Atlas Window Cleaning
North Carolina
I tried to sell her on that. She already had a roofer coming out to give an estimate on cleaning it, and she never called me back, so I'm guessing it's taken care of.
Bummer…They probably said it couldn't be cleaned and she needs a new roof!
Jesse
Atlas Window Cleaning
North Carolina
You guys would be proud, I did my second only ever gutter cleaning today! It was only 20' of gutter so I said what the heck and went for it. It was nice too because the 2 inches of dirt in there was easy to break up and dig out. After removing a few pounds of good solid New Mexico soil, I rinsed it out and it looked good. Took maybe 10 minutes.
I use wire brushes when removing moss…I was jus curious because it looked liked the moss was removed in the second photo but its the angle the poster mentioned later on. I honestly woudnt remove moss if im only charging for gutter cleaning. If I was the home owner I would have done the roof cleaning and gutter cleaning @ the same time.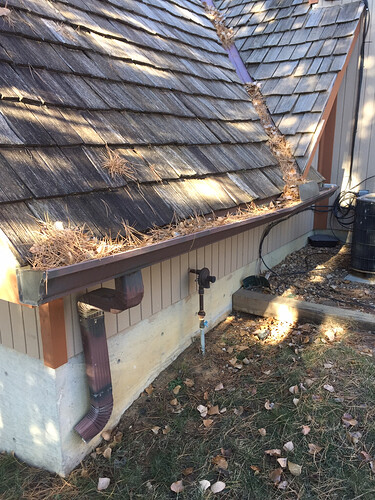 Here's a before pic from a week back… This was the easy one
Jeremiah, Advantage Window Cleaning
Sent from my iPad using Window Cleaning Resource mobile app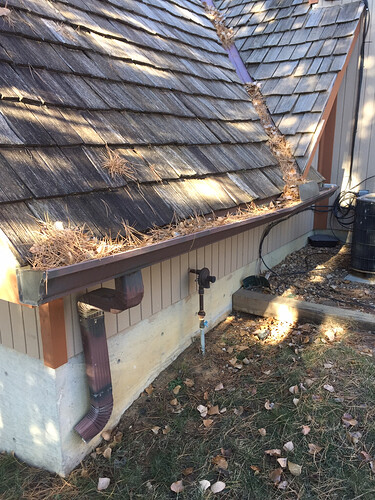 Sent from my iPhone using Window Cleaning Resource
I'll say… It looks like it's a foot and a half off the ground!
Jesse
Atlas Window Cleaning
North Carolina
Cedar shakes ewwww, I don't prefer those roofs…lol…Nice pic wheres the after shot tho?
lol u could walk that no ladder …lol
Nice pic's Man, tha slipper is hilarious
That's where my slipper went. No wonder I couldn't find it.
While my guys were dong the windows I started on the gutter, this one had gutter guards and ice 3" thick. By the time I got done with it I forgot to take an after… Go figure
Yep. Hate 'em.
Cedar Shakes are the Pella of roofs.
Try making any sense of their usefulness.
And don't even think about the North side of the house.
Moldy ass pieces of shit, pretty much disintegrate to the touch, there.
The Pella of roofs…You're awesome JfromtheD!!!
Jesse
Atlas Window Cleaning
North Carolina