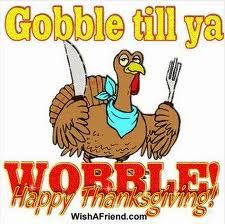 Enjoy the Family and Turkey and sides and Football!!!
im taking the whole week off, didnt schedule any jobs and will just relax and enjoy the fam because heaven only knows that if I got flooded with calls the full two weeks before thanksgiving, im anxious to see what the two weeks leading up to the end of the year will hold in store for me.
love it when people are so self conscious about the appearance of their house when they have guests come over for the holidays.
Happy Thanksgiving y'all!
Wish I could do that, not to that point yet. Instead spent Tuesday and Wednesday covering for employees who called in.
Sent from my iPhone using Window Cleaning Resource mobile app
They're fired!!
Sent from my iPhone using Window Cleaning Resource mobile app
Ha! No, everyone gets sick every once in awhile, just happened on the worst possible days.
Sent from my iPhone using Window Cleaning Resource mobile app
Happy Thanksgiving all.
No time off, not even today.
Don't work to hard today Bro…Hopefully when you get home there is a big plate of turkey waiting!!
We have a large display which has been acting up. Been out the last two days and got it running but it fails hours later.
Got one, maybe two more ideas before I say get us dedicated power!
Hope to be there 2 hours most, leave with it on, eat some food, go back and check it again. Once we get it dialed in we'll be good for the season.
No thrilled but effin well. Winter is coming…
Now you have my curiosity peaked…Large Display??
Holiday lights.
We started installing Oct 8th this year. Nature of the beast my Thanksgiving is always a little messed up. we had 5 calls/emails yesterday for touchups. Most take 5-10 mins. This one has been a beast and I think in the last two days we have 8 man hours into it.
Its a self righteous condo complex. I get it, 180 people are asking the President why the display isn't working so she is asking me. She loves us, she knows we are doing all we can, she has seen the display work for hours.
I really don't mind going out today, what I don't care for is the no mental relaxation last night once home. Got home got a text at 9pm saying it was not working again. So I watching something and troubleshoot the job in my mind.
Half dressed now…
Gotcha ya, good luck Dave.