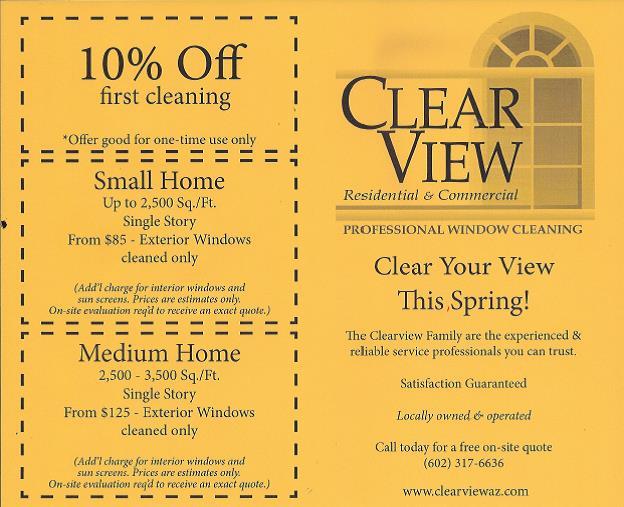 Hey Guys,
So I put up a .jpeg of the flier that I designed myself at Office Max and have been putting out over the last couple of months or so. It's 8 1/2" x 7" after printing it twice on a Legal sized paper, then cutting it in half. I put out a thousand, tweaked the pricing, wording, and design a little bit, then put out another thousand. Everyone I know says it's a great looking flier, including some local wc guys that I've befriended here in Scottsdale. The thing is, I've only gotten FIVE CUSTOMERS off of it!! (those five were the only ones that called, which puts my closing ratio at 100%, just to be clear). I know the response rate of flyers should be around 1%-2%, maybe even as low as 0.5% for a first time run, but 0.25%?? What gives?
My question to you all on here is what am I doing right? What am I doing wrong? What can be improved? Now, I know that I do not have an expiration date for a call to action but honestly, it takes me like a week to put out a thousand (200/day takes about 3 to 4 hours on foot at which point I burn out) and I don't want the deal to expire by the time I get them all out, you know?
Just some preliminary information: My pricing is based on $6/pane ($12 for a DH) but conceal it within a square footage based on what I've seen in my area. The prices may look low, but I assure you I'm pulling in about $65-$75/hour.
Should I put prices in print or does talking about money from the get-go depress the perceived value of my brand/business and service?

Should I just put bullet points about my company and our value propositions as opposed to the "Square Footage" deals in the squares?

If you could design a flier from scratch, what would you include?

Are fliers dead? Are door hangers more effective? EDDM is eventually how I want to market my company but from a financial standpoint, it's just too expensive so I'm stuck with these methods.

Would you be willing to share effective fliers that you have used in the past or are currently using?
Any constructive criticism and suggestions would be greatly appreciated. Thanks in advance.