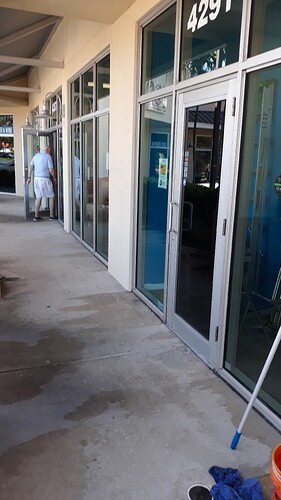 Hey guys, haven't posted in a while-- season is around the corner!
I was working today and I was approached by a neighboring store. She asked for me to clean them, that "the old man hasn't shown up in months"-- I said I will stop by after I am done. I go in, the glass is just like the other store I clean-- I figured I am already in the plaza might as well get this and add to my neighboring stores so it makes it worth it to come out. Nice and easy, just dirty for the first cleaning. It's 3 bays of 9 windows each, I figured 25 dollars outsides only plus door once a month.
Since it was a first clean I charged it time and a half-- got the job no problem and I feel I could have went to 30-- BUT I am now making an extra 25 for about 8 minutes of work from this month forward. I didn't have time to do the insides so I said in October I will come back and do it in/out for 60. I asked who they used, they couldn't remember the company since it's been so long. At first I was hesitant to "take someone's job"-- but I figure if the customer isn't happy, everything is fair game and I am here while they are not. I know a lot of the commercial guys around the area and one had passed away from cancer and another retired-- could have been one of them.
Anywho, customer was ecstatic and I have added something to the little route I have. Nothing to run home about, but I really enjoy these store fronts as I have been doing them for my employer for about 15 years so I have had plenty of practice and know how to get a general "feel" for the customers. I prefer residential but what I do is set up my route on 1 or 2 days a month (I am small, just a handful of commercial jobs) and do it on the side when I am off clock for my job. It's not much but it adds up and I am able to grow at my own pace since I have a full time job.
Thanks for reading,
K.D