This is a Transformer product I have developed based on a water dispersable organo silane. It is added directly to your bucket at a very low percentage. Then you can add most whatever "soap" you want. That being Dawn, GG3, Ecover, Joy, and so on. I am working on a video now and will have reviews.
Take a look at the glass matrix here.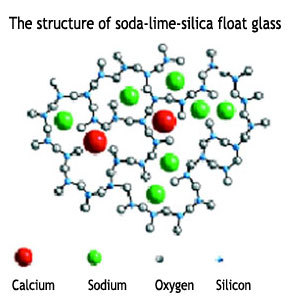 You will notice that each oxygen is connected to two silicon atoms. Within the glass. But at the surface each oxygen is connected to only one silicon. This means at the surface of glass the oxygens are essentially free. They can react with other elements or molecules. Such as grease or for our concern, organic silane chemistries.
My Soap N Seal is unique in that it is applied to the glass at the same time we clean it. This cuts down the time it takes to "seal" windows. The primary function of this product is to create a water hating barrier. Not necessarily to help guard against hard water spots. I do not suggest using it inside either. All sealants have specific purposes. It is important that we become familiar with what we are using so we know why we are using it. This particular product should allow you to do certain jobs like greenhouse glass more frequently. You should also be able to get a bigger buck.
I am not selling Soap N Seal directly. You can buy the chemistry directly from the manufacturer and make up your own product. It then becomes your formula, your product. All of the info on how to do this, where to buy the chemicals, and how to use it, are available in a two page newsletter that I send out as an attachment by email. This is a turnkey letter available for 35 dollars billed simultaneously by Pay Pal. If you have any questions just send me an email.
Henry
henrygroverjr@gmail.com