So I'm thinking about caving in and getting this stack ladder set up from WCR.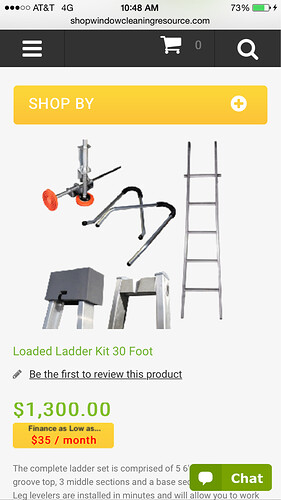 Couple questions for anyone that uses these day and and day for window cleaning and gutter cleaning. I'm more interested in how they will help me with gutter cleaning.
I currently have a Werner 26' multi ladder, just in case I need to reach as I mostly wfp my residential window cleaning jobs. So this barely gets used and I'm slowly dreading gutter cleaning season that's approaching.
I work out of a Silverado with a 6.5' bed with a cover over it. I like to keep everything in there and away from the elements so I need to keep everything stored in the bed under the cover. This is why I use the Werner multi ladder, it fits in there and I have it on me at all times just in case.
I haven't worked with stack ladders up to 30' like this set up is. Will I hate it more than this Werner ladder? Just trying to work smarter not harder and I dread gutter cleaning with this ladder every time.
Mike Radzik
Pro Window Cleaning
Central Massachusetts
Home
Sent from my iPhone using Window Cleaning Resource