Which one are you using? How do you like it?
I have been happy with mine.
It is pretty powerful without being too loud. It comes with a couple of attachments including the narrow type to get in along edges and into corners. You can rotate the attachments so you don't have to hold the vac at an awkward angle. It's easy to empty too.
I've posted about my Ridgid WD2450 a few times. It's discontinued (I have 2) now, but I find it very powerful and efficient. It's a dual-voltage model (24V Li-ion or 18V NiCad.)
Run time is 15 minutes (I have 5 batteries; 2 chargers.) 1 battery is good for about 30 openings.
ProTeam Vacuum now sells the same form factor, but only in 18V.
I love my dyson too! Extremely quiet, trigger pull switch and it sucks! Have used for a year now and it it still going strong. It is a bit spendy, but works great.
Lol, either you don't clean tracks or you use another method? I always find myself with ridiculously dirty tracks, wasting time trying to get all of it out with just a rag/sponge. A quick hit with a vac would make my life a lot easier…
I had searched for this topic and I've seen you mention this and noticed it is discontinued, I even tried to ebay it
Proteam vac is the same platform?
Used to use this one all the time as a previous job, wasn't super impressed with it but it's been so long I'm not sure if it would be enough for my application. Mainly used it for concrete dust and such.
74 dollar extra charge for vacuuming makes people very happy with just a quick track wipeout
I've debated this before, half the time if it's real bad I just tell them it's far beyond a track wipedown. But you know how customers are, they expect it all.
I come across a ton of homes that have literally 1/4 inch of dirt just in the track, a quick brush and hit with the vac would make it a lot easier for even a wipedown.
What do you do if you come across this? Leave it? Tell them?
that's a lot of dirt. usually they brought that up on the phone, which automatically makes me raise the price a lot.
the quick vac doesn't add too much time for a job.
maybe when you describe to the customer on the phone your process for cleaning tell them how you wipe vacuum clean the tracks very good and work in a higher price, if they balk say we can brush and wipe the tracks out and it will be this much less
i haven't seen it in person, but it looks exactly the ssame in photos, save the dual-voltage feature.
Larry…I still have my ridgid that I was supposed to send pictures of to you years ago…I still havent used it. It wants to be with its cousins. Next time your in town…come get it. I'll even make you a pizza.
Thats a great vacum i use that in my house. If i took it to work with me i would wake up with it across my head.
Well, send tthem photos, why don't you.
I know right…the only time it gets any attention is when I go out there…clean it…and don't take pictures. My project for this evening! I'll FB them to you.
Saw @Garry post about his DeWalt cordless on another thread, it got me thinking and so we tried the cordless route as well.
Couldn't be happier, no more searching for outlets, dragging cords. The run times have gotten WAY better these days; we have an 18v Makita LXT, per battery, rated: 45 mins on low setting, 30 mins on high.
We went Makita because I am already invested in that platform with other tools/batteries.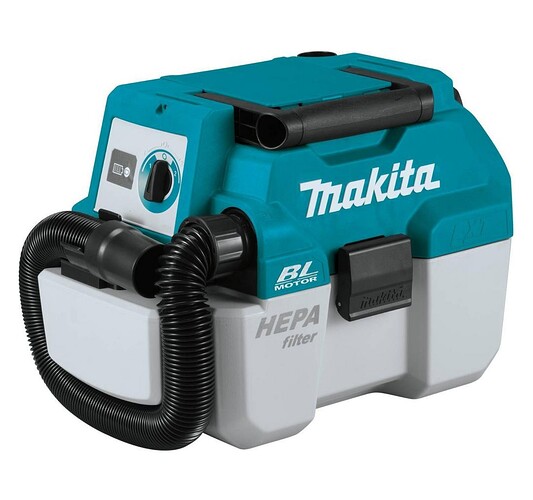 As odd as this sounds, I also feel like having unique equipment, and equipment that produces noise the customer can hear makes them feel more comfortable paying the extra cash for having the tracks deep cleaned.

Makes sense to stick with the battery platform you have, as long as it all still serves you well. I still keep my corded vacuum in the van as on occasion I have forgot to charge the batteries! lol And yes, a few big jobs I have struggled to find an outlet close enough for the corded. Looks like you made a good choice.