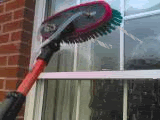 While a steady and thorough scrubbing technique via brush to glass is very important. I've found that a thorough and detailed rinse is just as important as the scrub.
Part of my learning curve with the water fed pole has been to use it during different climates. I've found that rinsing becomes even more important during hot weather to insure a quality finished window cleaning process.
For my scrubbing technique I always start with the frame of the window scrubbing it clean first, then I use an up and down motion covering a portion of the window (depending on size) working my way left to right on the glass itself. And then the all important rinse.
Sometimes I think I over do it on the rinse but I'd rather over do it than not. It may seem like a silly subject to some, however if you plan on using the water fed pole, developing a sure scrubbing technique and understanding the importance of a good rinse will be paramount in your efforts.
What scrubbing technique do you use?