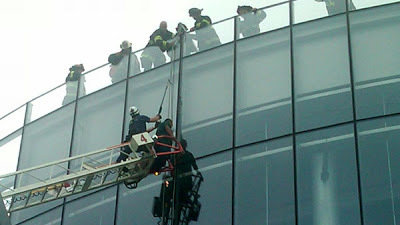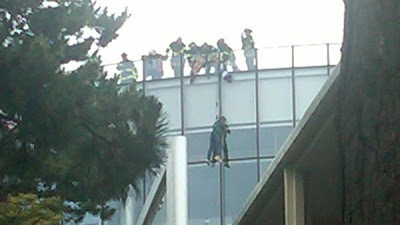 SEATTLE – Seattle firefighters have rescued a window washer who slipped out of his chair and dangled from the roof of McCaw Hall at the Seattle Center.
Fire officials received a distress call just before noon Thursday. When they arrived, they found a window washer hanging from a harness from the building, about 65 feet off the ground.
The window washer had step over the top and was preparing to wash windows when a chain on the seat he uses gave way. He fell about eight feet and was left dangling from the harness.
Update: Here's the video
http://www.kirotv.com/video/28550094/index.html
Firefighters first went to the roof, about 15 feet above the man, and lowered a harness to secure him until the ladder truck arrived. A fireman on a fire truck ladder was able to reach the washer; he was taken down safely, shaken but uninjured.
The window washer said he usually doesn't rely on the safety harnesses and thought he was going to fall. He said he' thankful for his rescuers and to be back on solid ground.