The spring season is almost here and I kept telling myself through 2020 I needed a better way to load/unload/store ladders on my Express 2500 Van. We have a 32', 24' and 16' extension on the van and have been using a basic rack with swivel locks the past couple years. It works but its time consuming and I need an A frame just to get the extensions up onto the roof because of the height of the express van (sketchy…)
I'm thinking of upgrading to a rack that can be lowered down for easy access and raised back up for transport (see photo).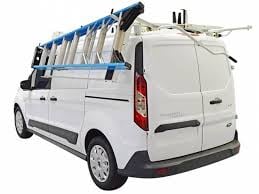 One downside is the max you can do is a ladder per side and I'd like the option to have three or four on the roof. It also seems a little pricey to buy one but considering how much time is spent each day/week loading and unloading ladders it is probably a worthwhile upgrade in terms of efficiency.
Maybe there are better options out there? I've considered getting a roller on the back rack to roll ladders on from behind the van but this still means getting an A-frame ladder out to put the locks onto the extensions to secure them to the roof rack… What are your thoughts?