[URL="http://www.news10.net/news/article/238893/2/Man-found-hanging-from-Sacramento-high-rise"][FONT=arial black][COLOR=#FF0000]LIVE VIDEO[/COLOR][/FONT]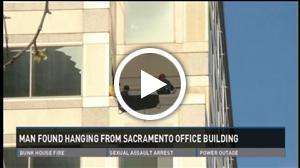 [URL="http://www.news10.net/news/article/238893/2/Man-found-hanging-from-Sacramento-high-rise"]
[URL="http://www.news10.net/news/article/238893/2/Man-found-hanging-from-Sacramento-high-rise"]
Man found hanging from Sacramento high-rise | news10.net
SACRAMENTO - There was a spray can and an etching tool found on the roof where a man was found hanging from a window-washing hook high above downtown Sacramento Monday morning, police said.
The dead man may possibly have been a graffiti "tagger", according to police Officer Michelle Gigante. Police and firefighters were called to the building at 1201 K Street after employees in an adjacent building spotted the man hanging around 7:45 a.m.
Firefighters brought in a tactical rope team for a possible rescue, but quickly determined the man was dead. Rescue workers were able to retrieve the man's body and determine his death had likely been accidental.
"The rope was clover-leafed around his body, it's a common knot that we use, and it tends to be self-cinching, the knot is, and with his body weight hanging on the rope, it looks like that might have been what tightened the rope up on him," Battalion Chief Marc Bentovoja said.
According to Bentovoja, responders believed the man had anchored himself to a window-washer's hook on the 17th floor and then rappelled over the edge.
Investigators were examining evidence to determine why the man was rappelling in the first place. On Tuesday, the Sacramento County Coroner's Office identified the man as Craig Michael Fugate, 30, of Vancouver, Washington.
                                                      News10/KXTV