Schultz learning something new.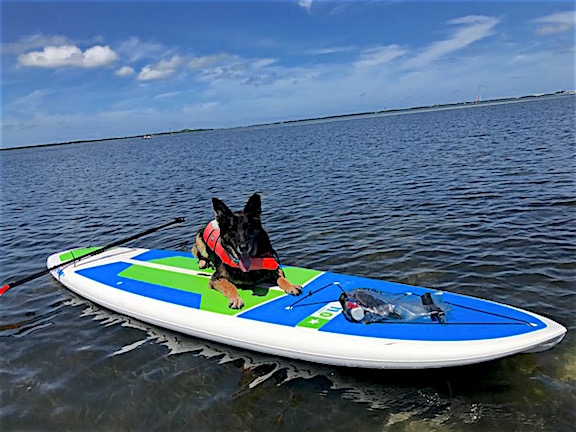 My wife really wants to do this with our dogs! How did he do?
He has been pretty good. I started him with just stepping on it and sitting down in the back yard, then after a few times of that introduced him to it on the water. He wasn't too sure and I had to make him get on board, but he was pretty good after that. We have only been on it 3 or 4 times. Last Sunday after he relaxed a bit he actually stood all the way back to shore. (About 150+ yards?) Eventually I hope after several more outings that he just steps on and is ready to go. The whole rocking motion thing is something unusual to their sensations at first, so we are slowly working on stability and balance. As with anything new it takes time and patience.
its also confidence training
look up confidence training usually military type pups. they use tons of different and unstable platforms too teach them.
we had our pup on trampoline, top of closet trained on top of boxes, washer machines.
my shepherd loves desert riding in sand rails
theyre all a little different sounds like your doing a good jobs looks fun
Gary, Im sorry I am just responding to this. I was going through my email and realized I never got back to you. Thanks for detailing how you have been training him to ride it! He looks like he had a blast!
I'm planning on taking the wife and dog out on a 2 seater inflatable kayak this weekend. Wish me luck!!
Me and Zoe having some fun on the lake!!