I'm about to make my own similar to that design.
I have been using the IPC Eagle II for several months now. Great device, makes it easier to get the screens cleaned, and have even had people stop give praise to it and striking the conversation "You must be a professional window cleaner." "Why yes sir, I am, here's my card."
Me too, just figuring out the legs right now
What materials are you using?
I hope you like it. I'm still amazed that people want what I basically designed for my own use. I've also tried to keep costs down so that I can still make a profit and the distributors can keep their lights on.
If you need any tips, advice, or help, feel free to pm me, email me, send smoke signals, pony express, or usps.
Oh, and just know that it's the only screen washer on the market that uses child labor.
I mean, I'm just not going to let my son play video games all day. Leg plugs this year, then he can work his way up to drill press next year.
I'd recommend aluminum because steel is going to be wicked heavy and PVC is just not durable enough. I've got designs in my head for a weld-less model in case my welder ever closes up shop. It took me forever to find a good welding shop so I had to make contingency plans.
You can copy IPC with some 1" square tubing (doubled up for vertical, single for the stand), a couple of plates for stability, and some 1/4" bolts.
I'm all about the diy so if you've got the time and the skills, go for it. I won't help, but I won't complain about it either.
I've seen other inventors loose their minds when someone copies them, but that just looks sad. I got the Forrest Whitaker eye when IPC came out with theirs after seeing mine at IWCA, but eh, what you going to do.
Just know, that with every unit sold, I feed a starving child.
I mean, my son wakes up and says "I'm starving." Then around lunch time "I'm starving"… Then around dinner time…
How do I know the money goes directly to the child?
But seriously, if I were doing more residential I'd definately go with the Aztec Innovations screen warsher. I mean who wouldn't want to help support this guy and his family? He's cool. And the screen warsher looks like a sturdy piece of equipment. Nice job @JaredAI
Thanks, Jared.
So far, I'm already impressed with the build quality. I have it proudly displayed in the kitchen. Kinda bummed that tomorrow's job won't include screen washing, one of the rare ones.
To the guys making your own, why not just buy this one? It's not very expensive, it's very sturdy, and looks sweet and professional.
Oh and Jared, the box had an interesting tobacco smell… Or maybe it was sandlewood. Not sure, but it was nice.
By making my screen washer I improve the unit by adding things seen in other versions my material list is under $100, I enjoy building things and for my use it'll be a better version, very similar but upgraded.
That's really weird. The box is from uline and I don't think I ordered the scented ones…
Just wanted to say I got to use my new toy and wow, it's fantastic! It was so fast and the screens came out just as good as my previous rinse, scrub both sides with soap, rinse, tap method. So convenient, so well-made, so portable. Absolutely love it. Great work @JaredAI. I'm glad I didn't wait any longer for this acquisition.
After trying to be the DIY guy (which I do for most things) in building my own screen cleaner I went and bought the Aztec washer about a month ago. Let me tell you I wished I did it years ago!! Cleaning screens is a breeze and it produces a much better quality screen then the old hand washing method. I dreaded the screen aspect of any job but now I look forward to doing it. Well worth the money!!
Anybody use pure water with the screen cleaner? I hooked mine up to my IPC hydrocart and not to sure of a difference.
For all you guys debating about getting one…get it! It saves time, energy and if you haven't charged for screens in the past you'll have no problem doing it now.
Yeah, I honestly think, why reinvent the wheel? The Aztec screen washer is great just as it is. Rather than do-it-yourselfing, just buy it and enjoy it.
I was actually thinking about hooking pure water to it, but the results with tap water are already perfect so i don't think i even want to try it.
Agreed. We've had an Aztec screen washer for two years and it's worked like a champ. No muss, no fuss – just keeps on ticking.
Well worth the money invested in this piece of gear.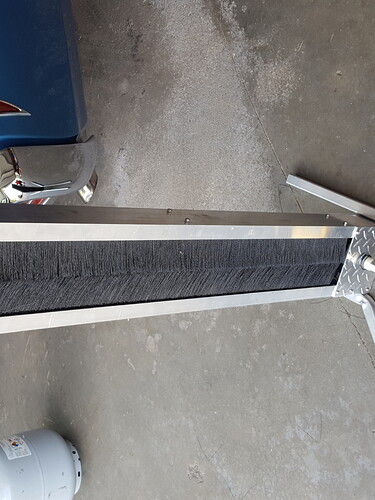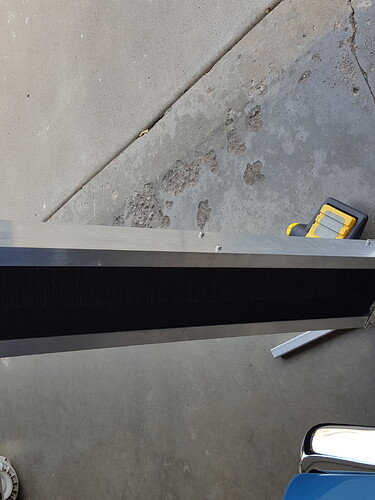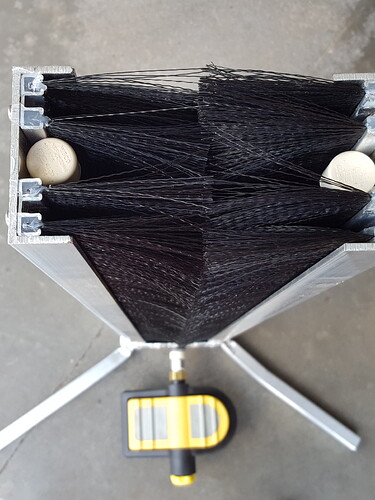 $100. Invested into this, still thinking of better legs. Found with 8 brushes, hiding the spray tubes in the middle helped eliminate wet feet. Keeps water more confined in center, dropping straight to ground rather than outside of unit.
I have the first version… Hate it !! I've been holding out on Jared's machine I'm hoping he puts one in my stocking this year.
It's killing me, part of me says just keen using the heavy monster , but I might have to spring for the Aztec next year. Even though I've been power washing them when I have my PW with me , An like that method.
I hate paying for something twice
Not bad. Did you glue the brushes in?
Brushes are on tracks, designed to hold the brush, slides in or out but realistically would never need to replace them so I put a dab a silicone on the ends to ensure the bristles don't come off and just kept them snuggle a little bit. Probably wasnt needed but incase.
Buy it immediately. You will not regret it.