Hey guys,
I bought a 3/4 cubic foot tank from my friend a month or two ago for 100 bucks.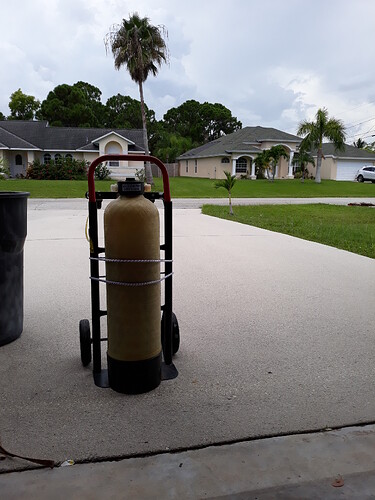 I ended up switching the connectors to brass, and added a shut off connector at the outlet (I now just attach it to the end of my Aluminum ASH Tucker pole's hose). Used it on the clubhouse I work on for my employer-- perfect results and shaved off 30-35 minutes off the normal cleaning method (I would have to tucker pole the window, then squeegee off with 24 foot Garelick). Thumbs up.
I tried it on a home that normally takes me 6+ hours to do all the outsides by hand (all cut-ups!!!)…did it in 3 hours and 15 minutes…that alone should sell anyone. SAFER (some of that house it 3-4 pieces) and the same great results!
A CON on the 3/4 tanks-- CHANGING RESIN…this was my first go round. I now know you should have someone give you a hand holding the bucket/garbage bag while you are trying to get it all out. Filling up I also learned to get myself a safety cone and drop that resin bag in!!!..save yourself LOTS of time. I do also see why people like the smaller tanks and/or the BAG system (Unger Hydropower).
I checked the water quality…got myself a TDS meter from the ZeroWater pitchers! My tap water is 300 TDS…very high. HOWEVER, where I work they seem to have their own water treatment plant, and I tested the water quality at 4 locations in the area-- 97 TDS, 108 TDS, 111 TDS and 121 TDS-- which is still pretty darn low-- but now at least I know what I am dealing with and can calculate how long this will last me in the future.
If there is anybody on the fence about getting into DI pure water cleaning…do it. Do it today. You will wish you did it YESTERDAY!