Has anyone used this yet? If so is it good?
Check the thread already on here with reviews on the stingray. It is a awesome tool.
Don't have the stingray, but have some of the speed clean pads. Same material as the stingray pads, just different shape (at least that is what I have been told - someone correct me if that is wrong). They do a fantastic job of cleaning inside glass. I even used one last week to buff out a few spots outside when I was doing a final inspection at the end of a storefront job.
Here a link to one of the treads available to search on the Unger Stingray.
This thing is awful. Dropped 300 bucks on a windex shooter. Here's a pic of a window with full sun.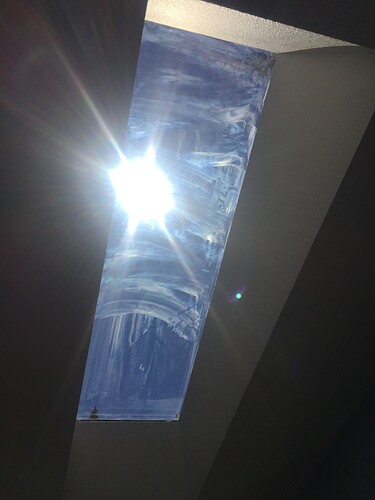 Is there something I'm doing wrong? This was with a clean pad and varying levels of dampness. Every window I've cleaned with the stingray leaves this haze behind.
This post was flagged by the community and is temporarily hidden.
The stingray is a awesome tool. There have been thousands sold by Unger
with cleaners using them with flawless results. The biggest problems people
have is over wetting the pad then the microfiber can not clean because the
pockets are filled with water and can not trap the dirt. The new 3M
solution in my opinion is better than DI water and alcohol.
If you are getting hazing it probably because you washed your pads in
laundry soap. Use just the hot water cycle and 2 rinse on your washing
machine. No soap.
This tool will save you time and keep you off ladders in someone's home.
I have tried lots of indoor cleaning kits (not the stingrray yet)… there are applications where they are the safer option or better option if you are in an area where you can't drip water…but for indoor cleaning, nothing beats using a soaker/squeegee
Do you recommend that also for the previous indoor pads. Are they ruined if they have been washed in soap already or can they be fully rinsed. I ask because before I washed mine they seemed to do excellent with Di & alcohol but after a few months its been inconsistent. They did amazing when I 1st tested then on my monthly commercial jobs and pretty much cut the time in half for the interior. I used straight DI starting out but I like the 50/50 mix better. I also have 1 resi client with 2 leaded windows w/40 panes apiece and that solution even with microfiber towels prior to the pads was super helpful in speeding up the time.
Following. The Stingray sounds really interesting.
Ahhhh the laundry soap. This makes sense…
I rented one for use on Mondays huge job. The tricky part will be the huge panes of glass against the stairwell. Usually I gingerly place my ladder. Hope this works well for this job; they are wanting me quarterly and it is big $$$.
?? ::
Take that ladder just in case.
Yep, local cleaning supply company has a Deluxe Kit for demo, so I rented it for $16.
10' kit, deep cleaning pads and regular pads, solution, and carrying case/bag. I always have my ladders, and it will take three different ladders to do the exterior anyway.
I used mine on two resin jobs last week. I thoroughly presoaked the pad with 3M Glass Cleaner and swapped out the scrubbing pads with dry pads to get the agitated solution off the glass. Worked real good both times and the clients were happy.
However, I am still planning on getting the Unger indoor speed cleaning kit, as it is probably more cost effective than the pricy pouches.
$2.60 per pouch covers 150 sq. meters? Less than 2¢ sq. meter.
That is good news. I see that the WCRA store has a much better price per pouch than I saw elsewhere. I will load up the next time I order WC stuff.
I still haven't bought an Excelerator so that will definitely be on my next order.
Allison knows all about cleaning with a pad and plane water.
Didn't need the ladder indoor at all. The kit actually worked great. There was about a 2-3 minute learning curve but after that it did an awesome job. I'm going to see if the guy can sell me the demo deluxe kit.