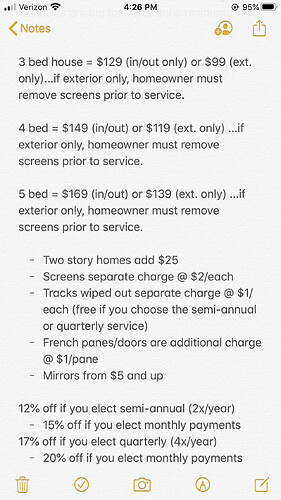 Wasn't sure if this should be residential or marketing…
Does anyone have an opinion or advice about doing "standard pricing" based on neighborhoods and house sizes? My thought is to provide a flat price based on the bedroom (3 bed, 4 bed, 5 bed, etc.). But, the caveat is pricing it based on relative income statistics. One neighborhood, I know, has a relatively lower income base than the one I live in, thus I would offer prices at a reduced amount, whereas say my neighborhood would be higher (granted the homes are bigger with more windows and more two stories.
Would this be feasible or do you think I'm setting myself up for failure? Thank you.
Also, I was thinking of offering several discounts. Discount for semi annual and quarterly. If they elect subscription based service (monthly charge), then they receive a slightly elevated discount.